Fine Arts
Art is an expression of life portraying all its moods in myriad colours. ❖ The fine art department of Panchsheel Public School is painting a beautiful picture as it articulates the creativity of our students. ❖ At a very tender age, PPS students have begun to depict in their own canvasses the beauty of nature around them. ❖ Our gifted art teachers groom budding talents.
Advance Technology
Panchsheel Public School has harnessed advanced technology to facilitate a more lucid and effective exchange of knowledge. The remarkable features of this technological aspect includes: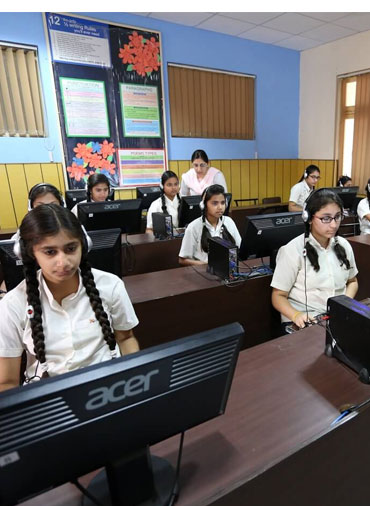 Next-generation computers and highly sophisticated audio-visual aids Elaborate collection of software and extensions of hardware with the strong support of programmed routines and modules
Multimedia centres equipped with facilities like Projector, Television and Computer with Internet
Computerized examination result system displaying the progress of the child as bar graphs (rise and fall of bars indicating the performance of the child) – ready and easy comparison of his/her performance with the previous efforts – result analysis for further improvement of the student
Computerized fee collection system to save the time of parents and avoid inconvenience to  Integration of the use of multimedia into the teaching process to create a brighter tomorrow for today's students
Teaching with projectors and computers to help students better understand the subjects in theory and practical classes – concepts and theoretical aspects of difficult topics lucidly conveyed when projected and shown on screen by the teachers
Use of animations to teach even kindergarten students
Teaching through interactive classes to make learning interesting, effective and easy for every student
Smart Classrooms
Panchsheel Public School had long ago adopted the concept of smart Classes long ago to make students smarter
Science and technology have been rapidly changing the world and these changes are reflecting in the educational sector as well.
Students must be smart enough to assimilate the changes around them; hence, they need a classroom that offers more relevant and engaging opportunities for them to learn, and to apply their knowledge and skills in meaningful ways.
A smart classroom is equipped with roof-mounted DLP projector, wall-mounted speakers, whiteboard, entire ACER computer system which is enclosed inside a very small podium. It uses
Animation simulation and colourful graphic design help in concept development, apart from making the subject come alive.